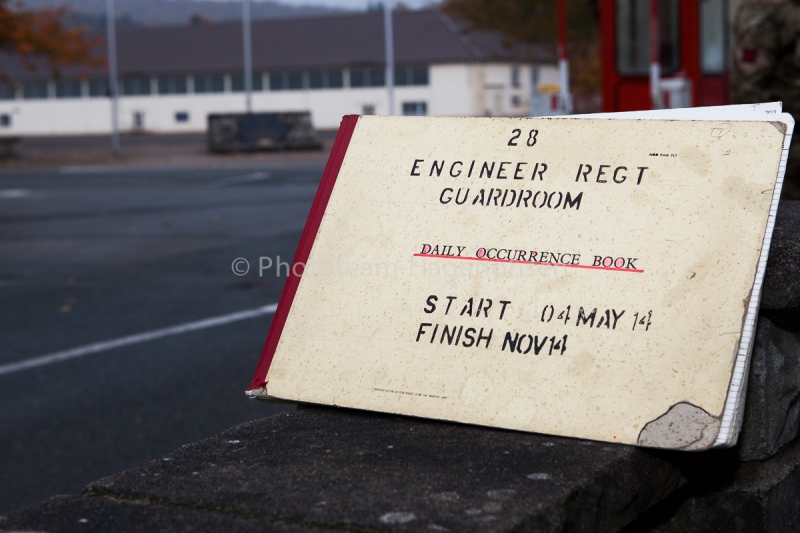 Nun ist es Geschichte…..…. die Garnison der Britischen Armee in Hameln gibt es nicht mehr! Heute am Dienstag 04.11.2014 war offizielle Schlüsselübergabe an die Bundesanstalt für Immobilienaufgaben (BImA). Zusammen mit meinem Fotokollegen und Freund Stephen "Spike" Porteus, der selber 24 Jahre hier als "Royal Engineer" seinen Dienst verrichtet hat, konnte ich an diesem historischen Moment teilhaben!
Pünktlich um 11.00 Uhr waren wir vor Ort und versammelten uns an der Wache der Gordon Barracks! Wie so oft in dem vergangenen Jahr wurden wir mit sehr viel Herzlichkeit von Lt.Col. Scrivens empfangen! Während wir warteten, begrüßte Spike mit viel Freude einen einzelnen Soldaten! Wie sich für mich hinterher herausstellte, war dieser Soldat einst "Sapper" (Gefreiter der britischen Pioniere) unter dem Kommando von meinem Freund! "Nun ist er Sergeant!" erklärte mir Spike, nicht ganz ohne stolz Weiterhin erklärte mir Spike, das der Stein, in dem der Dreizack und der Schriftzug "28 ENGINEER REGIMENT"  eingearbeitet  ist, seinerzeit von Ihm hier mit hergebracht wurde!  Außergewöhnlich ruhig  und gespenstisch leer war es hier, im Gegensatz zu meinen letzten Besuchen auf dem Gelände der Gordon Barracks! Diese Szenerie, der leere Parade Ground, die leeren Flaggenmasten, die leeren Straßen, das Rauschen des Windes, welches nur durch das Krächzen einer Krähe gestört wurde hätte bestimmt so einige ehemalige Soldaten sentimental werden lassen! Nach einigen Interviews mit hiesigen Medienvertretern, übergab Lt.Col. Scrivens der letzte QM (Quartermaster) die Schlüssel der Gordon Barracks (Linsengen-Kaserne) an Vertreter der Bundesanstalt für Immobilienaufgaben. Nun liegt es an der BImA was aus dem Gelände wird! Ein letztes Mal wurden in das Wachbuch der Gordon Barracks Namen der Besucher eingetragen, um es danach für immer zu schließen!
British Army in Hameln – Gone but not forgotten!
+++
Now it's history ..…the garrison of the British army in Hameln no longer exists! Today on Tuesday, 11/04/2014 was the official key handover to the Institute for Federal Real Estate (BImA) Together with my photo colleague and friend Stephen "Spike" Porteus, who has served here, 16 years as "Royal Engineer" on his own!, we were able to participate on this historic moment! On time at 11:00 clock we were there and met at the guard room of Gordon Barracks! As so often in the past year we were greeted very kind, by Lt.Col. Scrivens! While we waited, Spike greeted with much joy a common soldier! Afterwards, as it turned out for me, this soldier was once "Sapper" under the command of my friend! "Now he is Sergeant!" Spike told me, not without pride 😉 ! Furthermore, Spike told me that the stone in which the trident and the inscription "28 ENGINEER REGIMENT" is engraved, was brought by him, while he served! Exceptionally quiet and spooky it was here, in contrast to my last visit to the site of the Gordon Barracks! This scenery, the empty parade ground, the loose flag poles, the empty streets, the sound of the wind, which had been interrupted only by the cawing of a crow surely made some former soldiers sentimental! After several interviews with local media reporters, handed Lt.Col. Scrivens the last QM (Quartermaster) the keys of the Gordon Barracks (Linsingen barracks) to representatives of the Institute for Federal Real Estate out. Now it is up to the BImA what will become of the site! One last time names of visitors were entered in the guard book of Gordon Barracks before to be closed forever! 
British Army in Hameln – Gone but not forgotten! …but a new friendship is born! Thanks to Stephen "Spike" Porteous!
+++
---
You might also like
---
---