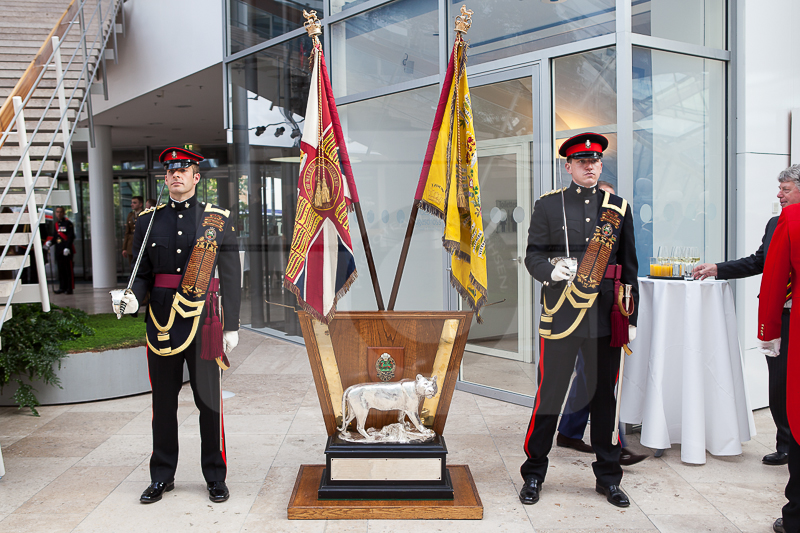 Britische Streitkräfte nehmen Abschied von Niedersachsen
Am Montag den 08.06.2015 fand im Foyer der NORD/LB in Hannover ein deutsch-britischer Empfang statt, bei dem der offizielle Geburtstag der britischen Königin Elizabeth II gemeinsam gefeiert wurde! Gastgeber waren Dr. Gunter Dunkel, britischer Honorarkonsul und Vorstandsvorsitzender der NORD/LB und Brigadegeneral Ian Bell, Befehlshaber der britischen Streitkräfte in Deutschland. Die britischen Streitkräfte haben diese Veranstaltung letztmalig mit der NORD/LB ausgerichtet, denn alle britischen Truppen werden bis zum Jahresende Niedersachsen verlassen haben!
"Ich bin hocherfreut darüber, den Geburtstag Ihrer Majestät hier in der wundervollen Stadt Hannover gemeinsam mit Ihnen zu feiern", sagt Brigadegeneral Ian Bell. "Leider wird es das letzte Mal sein, dass die britischen Streitkräfte daran beteiligt sind. Dieser Empfang bietet uns die Gelegenheit, uns dafür zu bedanken, dass Sie jahrzehntelang für tausende von britischen Soldaten in Niedersachsen hervorragende Gastgeber waren."
Weitere Ansprachen hielten der britische Botschafter Sir Simon McDonald KCMG, Dr. Gunter Dunkel und Niedersachsens Ministerpräsident Stephan Weil. Alle Redner lobten die guten Beziehungen der deutschen Bevölkerung zu den hier stationierten britischen Truppen! Zu den geladenen Gästen wie Heinrich, Prinz von Hannover auch hier aus dem Hamelner Landkreis dämmende Gäste! Ulrich Behmann, der Chefredakteur der Deister- und Weserzeitung, der seit Jahren auch über die Manöver der britischen Streitkräfte im Landkreis Hameln-Pyrmont berichtete und Freiherr Cord von Mengerßen, der eng mit den britischen Streitkräften verbunden ist und sein Gut Helpensen oft für Übungen zur Verfügung gestellt hat! 
Im Anschluß zu dem Empfang fand auf dem Trammplatz vor dem Rathaus ein musikalisches Spektakel statt. Die Ehrengäste wurden von dem Dudelsackspieler Nick Colwell und dem Drummer Kenny Bright zum Tramplatz geleitet!
Die "Band of the Royal Armoured Corps" begleitete von nun an alle Darbietungen auf dem eigens dafür abgesperrten Trammplatz! Eine beeindruckende Vorstellung lieferten 6 nepalesische Tänzer der Gurkhas die einen traditionellen Tanz aufführten! Zum Zapfenstreich kam außerdem noch "The Band and Bugles of the Rifles" auf den Platz die wieder mit Ihren schnellen Schrittfolgen (140 Schritte pro Minute) beeindruckten! 
Die britische Fahne wurde eingeholt und Brigadegeneral Ian Bell übergab die Flagge an Niedersachsen Ministerpräsident Stephan Weil!
 Emotional wurde es als der "The Lone Piper" David Moir seine Tunes vom Balkon des Rathauses erklingen ließ!
+++
British Forces leaving Lower Saxony
On Monday, 06.08.2015 a German-British reception was held in the foyer of the NORD / LB in Hanover, where the official birthday of Queen Elizabeth II was celebrated together! Hosts were Dr. Gunter Dunkel, Honorary British Consul and the CEO of NORD / LB and Brigadier General Ian Bell, commander of the British forces in Germany. The British forces have this event for the last time aligned with NORD / LB, as all British troops will have left Lower Saxony by the end of the year!
"I am delighted to celebrate the birthday of Her Majesty in the wonderful city of Hannover together with you," said Brigadier General Ian Bell. "Unfortunately, it will be the last time that the British armed forces were involved. This reception gives us the opportunity to thank you in the name of thousands of British soldiers in Lower Saxony, you being excellent hosts. "
Other speeches were held by the British Ambassador Sir Simon McDonald KCMG, Dr. Gunter Dunkel and Lower Saxony Prime Minister Stephan Weil. All speakers praised the good relation between the German population to the British troops stationed here!
Among the invited guests such as Heinrich, Prince of Hanover there were also some guests from the district Hameln! Ulrich Behmann, the chief editor of Deister- und Weserzeitung, who reported for years during the maneuvers of the British forces in the district of Hamelin-Pyrmont and Baron Cord of Mengersen. He is closely linked to the British forces and often have been for exercises available, he has provided the Rittergut Helpensen!
Subsequent to the receipt of a musical spectacle took place on the Trammplatz in front of City Hall. The guests of honor were led by the piper Nick Colwell and drummer Kenny Bright!
The "Band of the Royal Armoured Corps" accompanied from now on all performances on the specially cordoned Trammplatz! An impressive performance delivered 6 Nepalese Gurkhas dancers who performed a traditional dance! For curfew also was still "The Band and Bugles of the Rifles' on the square which again impressed rapid sequences of steps (140 steps per minute)!
The British flag was overtaken and Brigadier General Ian Bell handed out the flag to Lower Saxony Prime Minister Stephan Weil!
The "The Lone Piper" David Moir sounds his tunes emotionally from the balcony of the city hall!
+++
Die komplette Galerie gibt es hier/ To see the full gallery klick here –> 
Empfang zu Ehren des offiziellen Geburtstags der britischen Königin in Hannover
---
You might also like
---
---