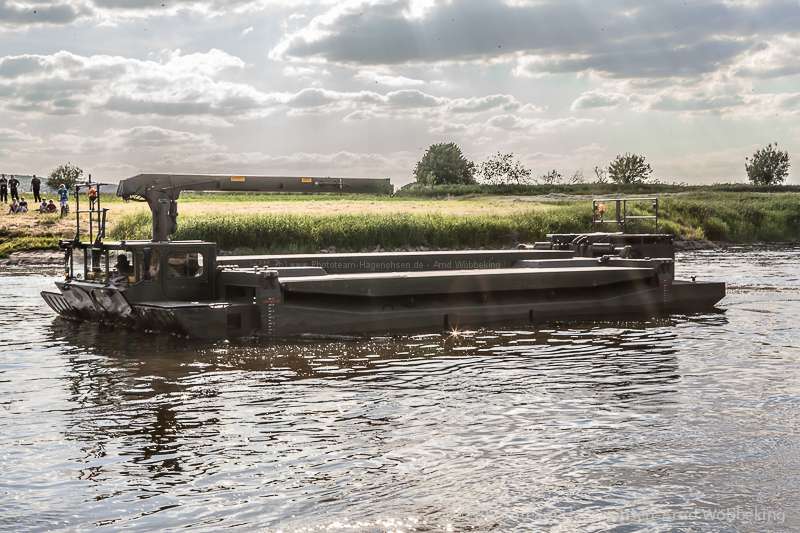 Sonntag, 07.6.2015 Felgenfest im Weserbergland! Wir waren eingeladen um ein paar Fotos an der Fährstelle in Großenwieden zu erstellen! Dort wurde wieder eine Brücke mit M3 Schnellschwimmbrücken gebaut! In 2013 und 2014 haben das die Pioniere der Bundeswehr aus Minden mit Faltschwimmbrücken erledigt. Die Jahre zuvor fast immer die Pioniere des 28 Engineer Regiments aus Hameln!
Dieses Jahr jedoch erledigten das die Pioniere der Bundeswehr und der Britischen Armee gemeinsam! Einzigartig wird wohl die Zusammensetzung der Besatzungen sein, denn 4 M3-Fähren wurden von dem schweren Pionier Battalion 130 der Bundeswehr aus Minden gestellt, 3 Fähren von dem 23 Amphibious Troop (ehemalig 23 Amphibious Engineer Squadron) und ein vom 412 Engineer Tp der Britischen Armee, alle in Minden stationiert!
Das Felgenfest als solches muss ein großer Erfolg gewesen sein, denn ca. 60000 Teilnehmer wurden gezählt! Wir haben dort fast 500 Fotos gemacht, verrückt, oder, aber es hat Spaß gemacht! Vielen Dank an das sPioBtl.130 der Bundeswehr dem 23 Amph Engr Tp und dem 412 Engr Tp der Britischen Armee!
+++
Sunday 7/6/2015 the bicycle day took part in the Weserbergland! We were invited to take there some photos of the troops who built the bridge across the Weser at Großenwieden! The last two years the Bundeswehr stayed there and built a bridge with a ribbon bridge! But this year there was a very unique composition of the crews! 4 Rigs were occupied from sPioBtl.130 of Bundeswehr, 3 Rigs were occupied by the 23 Amphibious Engineer Troop (ex 23 Amphibious Engineer Squadron of 28 Engineer Regiment) and one rig was manned by 412 Engineer Tp! All based in Minden now! The "Felgenfest" was a great success for the area. More than 60000 people came across the closed road! 
---
You might also like
---
---