Am 21.05.2015 gaben sich die Offiziere aller noch in Herford stationierten Truppen ein letztes Mal im Offizierskasino an der Liststraße die Ehre! Zu den geladenen Gästen gehörte u.a. Herfords Bürgermeister Tim Kähler und weitere hohe Persönlichkeiten der Stadt! Nach einem Sektempfang mit allerlei britischen Cocktail Spezialitäten, bedankte sich der stellvertretende Standortkommandeur Major Alan Garrett bei der Stadt für die Jahrzehntelange Gastfreundschaft! Kähler erwiderte und gab den Dank an Major Garrett zurück. Colonel Rowland überrichte dem Bürgermeister ein aus Silber gegossenes Nashorn, das Wappen der 1 (UK) Division.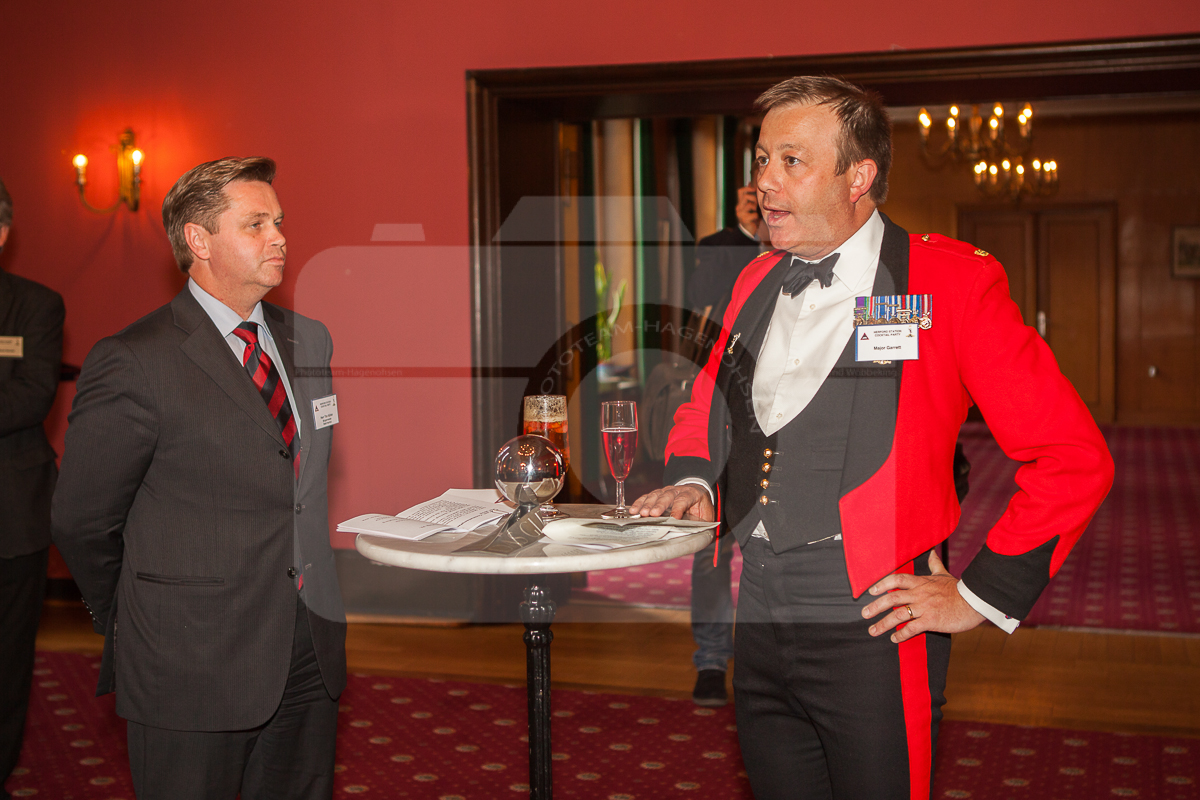 (links Tim Kähler, rechts Major Garrett)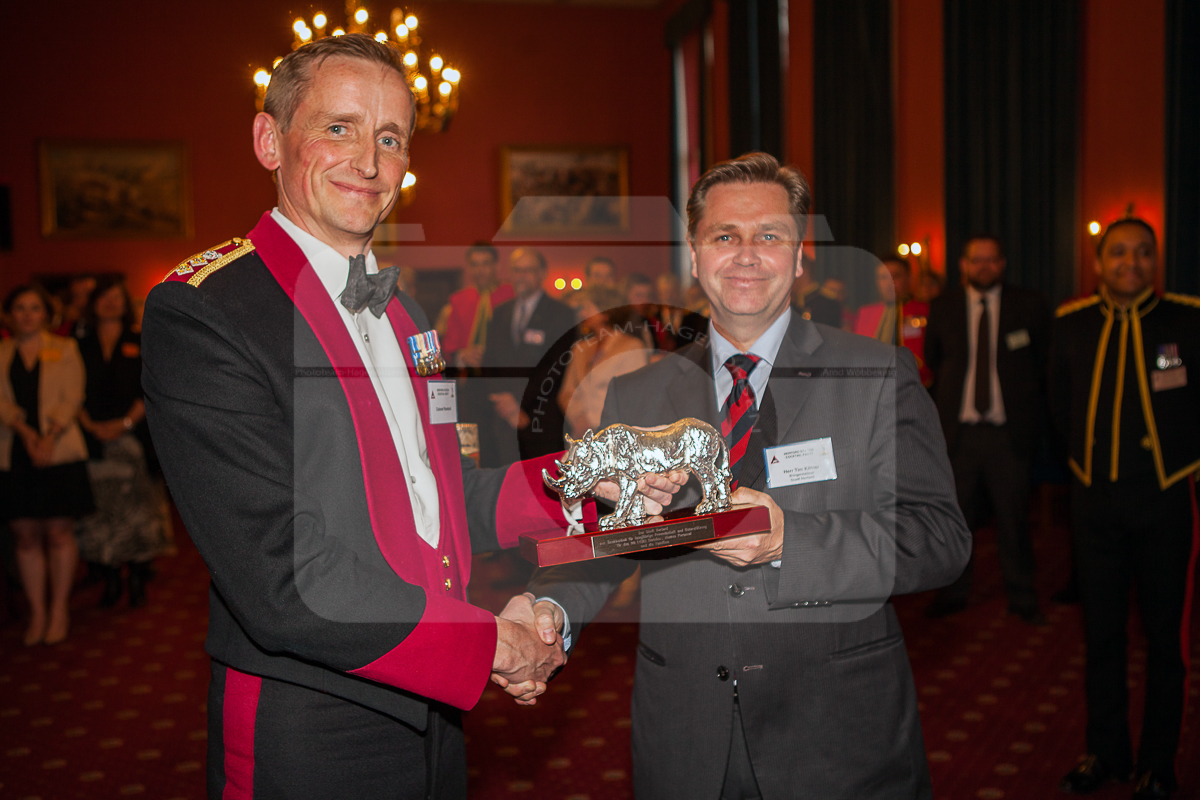 (links Colonel Rowland, rechts Tim Kähler)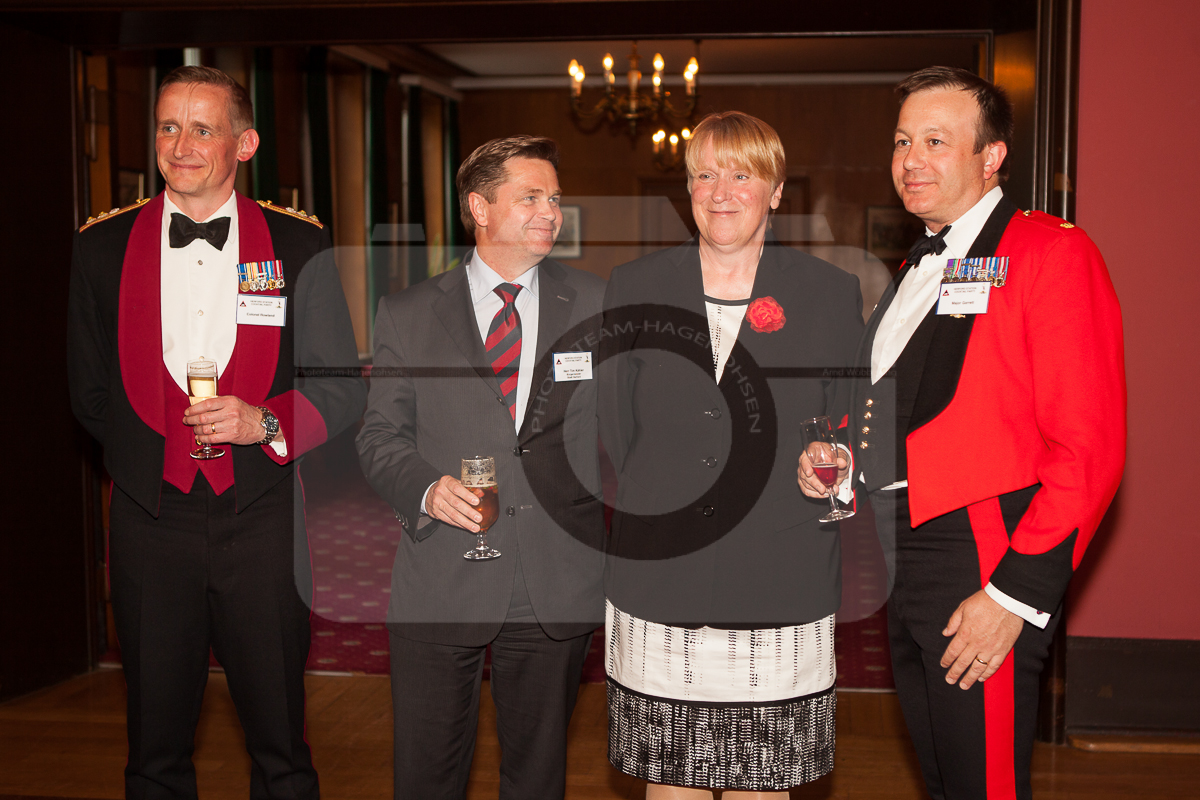 Besonderen Dank erhielt Chrissie Kelly (hier mit Colonel Rowland, Tim Wähler und ganz rechts Major Garrett zu sehen), die sich jahrelang erfolgreich um die Beziehungen zwischen Briten und Deutschen im Deutsch-Britischen Club in Herford bemüht hat!
Das musikalische Programm übernahmen "The Band and Bugles of the Rifles". Ein Band die berühmt ist für Ihre schnelle Schrittfolge (140 Schritt pro Minute) und Ihre Marschformationen. Den Abschluß der Cocktail-Party bildeten die deutsche und britische Nationalhymne. Dabei wurden die deutsche, britische und die Flagge der Royal Signals ein letztes Mal in Herford eingeholt!
Das letzte größere Manöver dieser Einheit hier im Landkreis Hameln-Pyrmont fand unter dem  Namen "Premier Battle Axe" im März 2012 statt!  Die 211 Signal Squadron ist seinerzeit auf dem Gut Helpensen untergezogen! Wir berichteten darüber hier: Exercise Premier Battle Axe
Zum Abschluss unseres Berichts ein paar Eindrücke der Cocktailparty:
---
You might also like
---
---