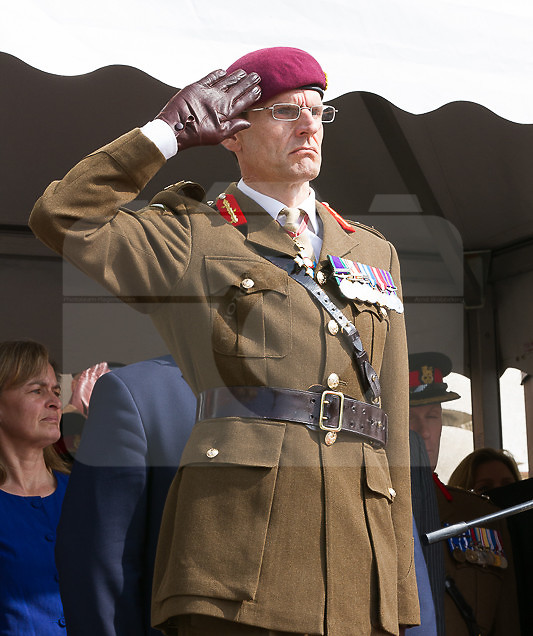 Der Abzug der britischen Truppen aus Deutschland nimmt unvermindert seinen Lauf!
Stellvertretend für alle britischen Soldaten die je in Herford stationiert waren, verabschiedete sich am Freitag den 24.04.2015 das 1st Armoured Divisional Signal Regiment ( 1st (UK) ADSR ) aus Herford mit einer Parade durch die Stadt und einer Ehrenwache! Das Regiment nahm auf dem Rathausplatz Aufstellung. Zahlreiche Ehrengäste und Einwohner Herfords säumten den Rathausplatz und schwenkten britische Fahnen.
Nach Inspektion der Ehrenwache und Ansprachen von dem Divisionskommandeur der Britischen Armee, Generalmajor Giles Hill und dem 1. stv. Bürgermeister Herrn Ralf Grebe, wurde dem 1st Signal Regiment, wie letztes Jahr in Hameln dem 28 Engineer Regiment auch, durch  Brigadegeneral Peter Gorgels der Bundeswehr das Fahnenband der Bundesrepublik Deutschland verliehen. Zur Erinnerung an die langjährige gute Beziehung und die Stationierung des Hauptquartiers der 1st (UK) Armoured Division hier in Herford, enthüllten Ralf Grebe und Brigadier GW Wilson noch eine kleine Gedenktafel rechts neben dem Eingang am Rathaus!
Dass es nicht ganz ohne Royal Engineers geht, bewies "The Band of the Royal Engineers"! Sie führten das 1st (UK) ADSR durch die Stadt und auf den Rathausplatz. Auch am Sonntag zuvor waren schon 5 Mitglieder der Band auf dem "Alten Markt" in Herford im Einsatz, um den Abzug der Britischen Truppen einzuläuten! Parallel dazu gab es am Sonntag natürlich "Very British",  Fish & Chips, Häggis und natürlich Guiness oder Irn Bru! Mit organisiert und gestaltet wurde der Sonntagnachmittag durch den Anglo-German Circle aus Herford die wir hiermit gerne grüßen!
und hier noch ein paar Fotos vom Alten Markt in Herford einen Sonntag vor der Parade:
---
You might also like
---
---