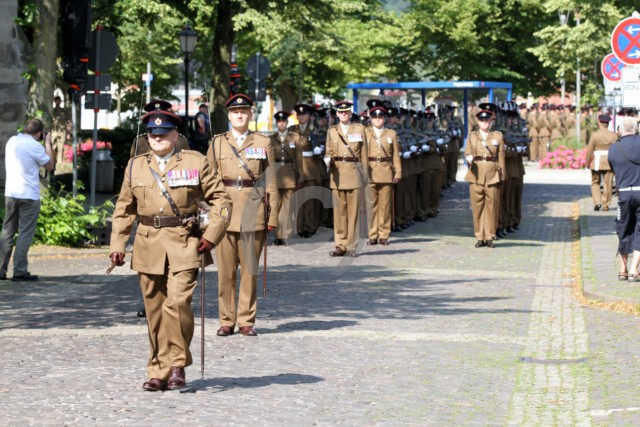 Trauriger Anlass für die Soldaten der 42 Field Squadron des 28 Engineer Regiment aus Hameln! Ihre Einheit wurde heute am 06-07-2013 im Zuge der Restrukturierung der Britischen Armee aufgelöst! Vorboten der Auflösung des gesamten Standortes Hameln welche bis 2015 erfolgen soll! Die Einheit nahm ein letztes Mal das Recht "Freedom of the city" in Anspruch, welches den in Hameln stationierten Britischen Streitkräften das erste Mal 1977 eingeräumt wurde!
Die Soldaten haben dadurch das Recht, mit Waffen und aufgepflanzten Bajonett, durch die Stadt zu marschieren! Die 42 Field Squadron stelle sich am Münsterkirchhof auf und wartete auf den Befehl: "By the right, Quick march!" von Ihrem kommandierenden Offizier! Angeführt wurde die Parade durch WO1 (RSM = Regimental Sergeant Major) und CO (Commanding Officer) Lt.Col. Chas Story, dem kommandierenden Offizier des 28 Engineer Regiments! Musikalisch wurde die Einheit begleitet durch "The Band of the Royal Irish Regiment". Den Abschluss bildeten einige Veteranen der Britischen Armee, die teilweise eigens für die Auflösung der Squadron aus Großbritannien angereist waren! Im zackigen Marschtempo verlief die Parade durch die Bäckerstraße bis zum Hochzeitshaus! Dort wurde die Parade u.a. von der Oberbürgermeisterin Susanne Lippmann abgenommen! Die Fahne der 42 Field Squadron wurde ein letztes Mal eingeholt und feierlich zur Aufbewahrung übergeben! "The Band of the Royal Irish Regiment" führte die Einheit vom Platz und als letzter Mann verließ der Dudelsackspieler David Moir den Platz vor der Hochzeitshausterasse!
Das Phototeam Hagenohsen war dabei und hat Euch die oben stehenden Fotos mitgebracht! Sollten Sie Interesse an einer DVD der gesamten Fotogalerie haben, nehmen Sie Kontakt zu uns auf!
---
You might also like
---
---