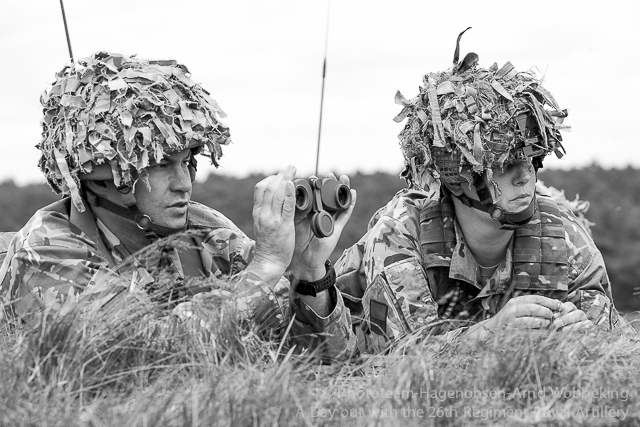 "MANSERGH DAGGER", unter diesem Namen übte das 26. Regiment Royal Artillery "The West Midland Gunners" auf dem Truppenübungsplatz in der Senne den "Scharfen Schuß" mit Ihren AS90 155mm Haubitzen. 200 Soldaten,  mit 30 Ketten- und 40 Radfahrzeugen des unter dem Befehl der 1st Artillery Brigade stehende Regiment nahmen an der insgesamt 4-wöchigen Übung, deren Abschluss das Schießen auf dem Übungsplatz gewesen ist, teil.
In den ersten drei Wochen wurden die zumeist sehr jungen Soldatinnen und Soldaten vorwiegend in der Theorie und physisch geschult und trainiert. In der letzten Woche wurde dann der scharfe Schuß mit den AS90 live geübt! Das erste Mal mit diesem Regiment dabei war die 132 Battery (The Bengal Rocket Troop), weil sie erst seit Anfang des Jahres zu diesem Regiment gehört und in Gütersloh stationiert ist!
"Back to the roots", das sagte mir ein Ausbilder sei ihr Ziel in dieser Woche! Müssen die jungen Gunners doch die Koordinaten mit Zirkel, Karte, Geodreieck und Kompass berechnen! Ihre FV514 Warrior OPV mit der gesamten Technik blieb im Camp Staumühle! Aber durch die gute und intensive Ausbildung durch Ihre Vorgesetzten landeten alle Granaten im angegebenen Zielgebiet! Vorher gehörte diese Battery zum 39 Regiment Royal Artillery!
+++
"Mansergh Dagger" were exercised by the 26th Regiment Royal Artillery – "The West Midland Gunners" on the military training area "Senne" with live munition of AS90 155mm howitzer.  200 soldiers, 30 tracked- and 40 wheeled vehicle commanded by the 1st Artillery Brigade were part of the 4 week long excercise. The first 3 weeks, the mostly young soldiers were trained and lessoned in theory followed by the last week which consisting the shooting with live bullets on the AS90.
"Back to the roots" said the instructors was the goal of the week. The young Gunners need to learn the usage of compass, magnetic compass, set square and map! Their FV514 Warrior OPV with the entire technology was left behind in Camp "Staumühle". Anyways, the good training of their superior all grenades hit their impact zone! This was also the first time for 132 Battery (The Bengal Rocket Troop) being in the 26 Regiment RA since January 2015 as active part and stationed in Gütersloh! The battery was former part of 39 Regiment Royal Artillery! 
+++
To see the full gallery klick here –>
"A day out with the Gunners of 26 Regiment RA!"
---
You might also like
---
---