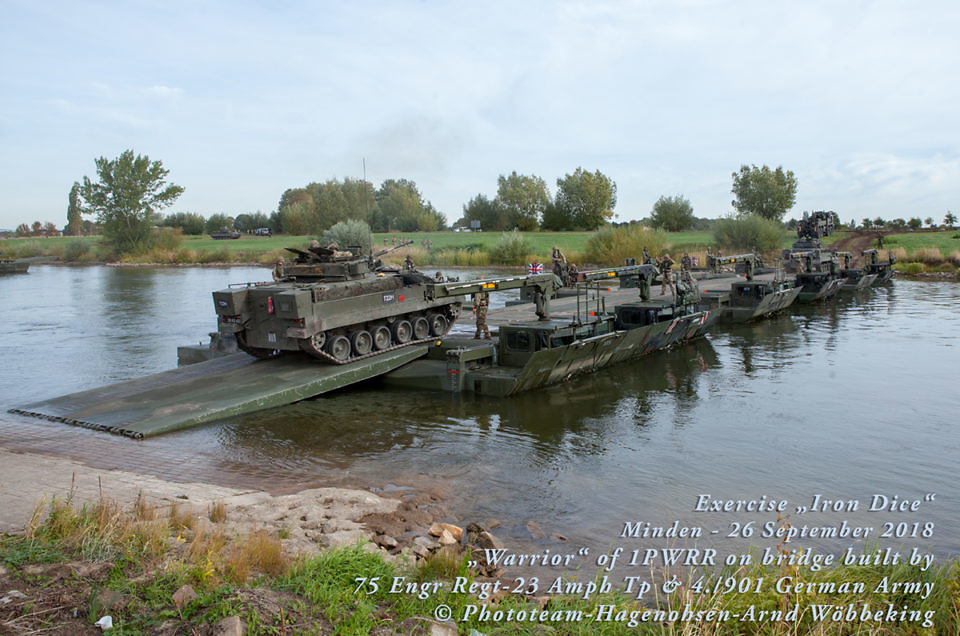 Iron Dice (Eiserner Würfel), so lautete der Name einer militärischen Demonstration auf dem Wasserübungsplatz in Minden. Unter den Augen von circa 100 hochrangigen Offizieren der Britischen Armee zeigten die Royal Engineers des 75 Engineer Regiment / 23 Amphibious Troop und die 4. Kompanie PiBtl 901 der Bundeswehr, wie schnell es möglich ist eine natürliche Grenze aus Wasser zu überwinden. Ich erhielt den Auftrag die Übung fotografisch zu dokumentieren und anschließend ein Gruppenfoto der teilnehmenden Offiziere zu erstellen. Im Fährbetrieb wurden einge Fahrzeuge, darunter auch vier "Warrior" Schützenpanzer, des in Paderborn stationierten Princess of Wales Royal Regiment (1PWRR), übergesetzt. Von der 661 Sqn 1 Army Air Corps mit einer "Wildcat" eingeflogen wurde eigens für diese Demonstration Major-General Robert Adam Mungo Simpson Melvin CB OBE. Die Maschine kreiste u.a. auch mehrfach über dem Weserbergland und landete auch auf dem ehemaligen Wasserübungsplatz in Hameln an der Fischbecker Landstraße! Abschluß des Übungstages bildete das vorher geprobte Gruppenbild der Teilnehmer und Gäste. Dazu wurde eine M3 Brücke gebaut und auf dem ersten Fahrzeug fanden alle Ihren Platz, währrend im Hintergrund zwei Warrior des 1PWRR Aufstellung bezogen.
Vielen Dank an die 3 (UK) Division für das Vertrauen!
++++
Iron Dice, that was the name of a military demonstration exercise at the water training area in Minden. The Royal Engineers of 75 Engineer Regiment, 23 Amphibious Troop and the 4th Company PiBtl 901 of the German Armed Forces showed how quickly it is possible to overcome a natural barrier of water under the watchful eye of some 100 high-ranking British Army officers. I received the order to photographically document the exercise and then create a group photo of the participating officers. Four "Warrior" infantry fighting vehicles, of Paderborn-based Princess of Wales Royal Regiment (1 PWRR), were ferried by the Royal Engineers and their german counterparts. Major General Robert Adam Mungo Simpson Melvin CB OBE was flown in specially for this demonstration by 661 Sqn 1 Army Air Corps with a "Wildcat". The machine also circled several times over the Weserbergland and landed on the former water exercise area in Hameln on the Fischbecker Landstraße! The exercise day concluded with the previously rehearsed group picture of the participants and guests. For this purpose, an M3 bridge was built and on the first vehicle all found their place, while in the background two Warrior of the 1 PWRR lineup related.
Many thanks to the 3 (UK) Division for the trust!
++++
---
You might also like
---
---