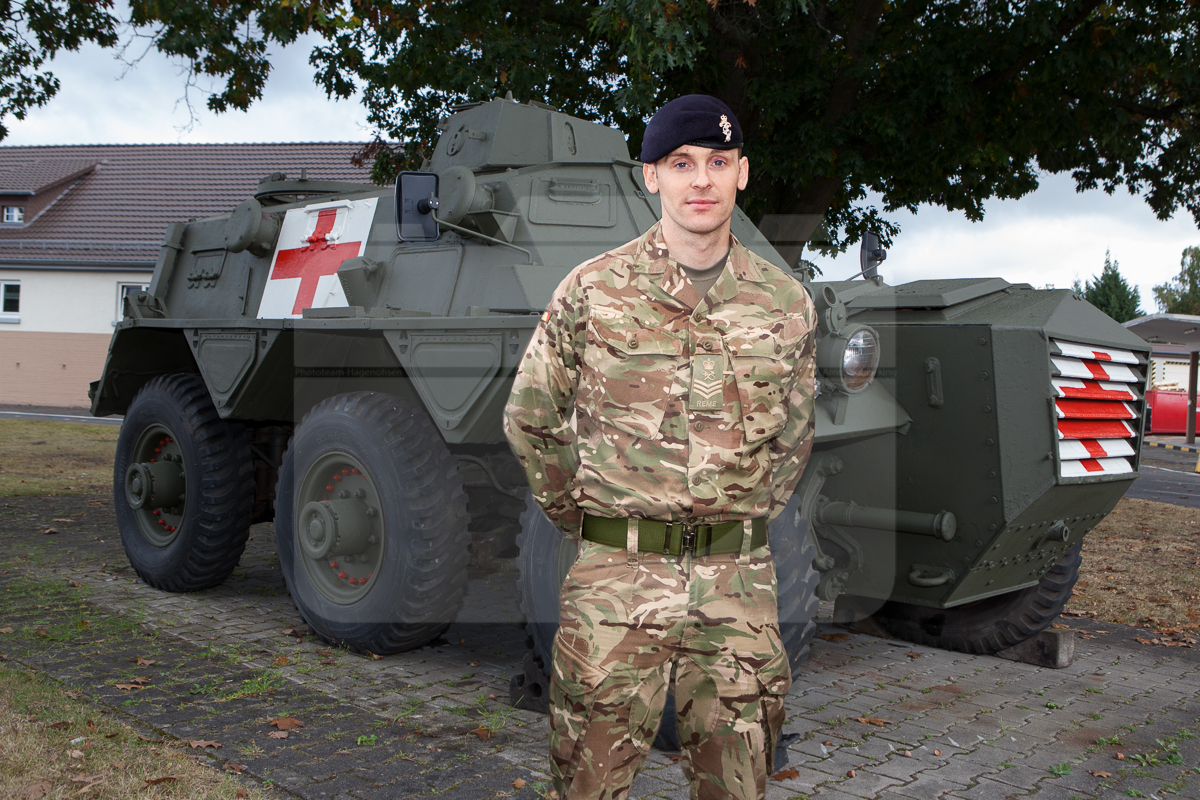 In den 60ziger Jahren des letzten Jahrhundert versuchten die britischen Streitkräfte die Entwicklung eines voll geländegängigen Radfahrzeuges! Die Idee so ein Fahrzeug zu konstruieren, ist so alt wie die Idee einen Panzer zu bauen. Ergebnis der Studien und Tests, war die FV600-Serie der Firma ALVIS zu der auch der FV603 "SARACEN" gehörte. Gleich mehrere Varianten wurden der britischen Armee zur Verfügung gestellt. U.a. als Gefechtsstand-, Waffenträger-, Mörser- oder Feuerleitfahrzeug. Auch eine Sanitätsvariante gehörte zu dieser Serie. SSgt Smith vom 1 Armoured Medical Regiment, stationiert in den Dempsey Barracks/Paderborn übernahm die Aufgabe, so ein Fahrzeug zu restaurieren. Damit ist er mit seinen Kameraden innerhalb kürzester Zeit fertig geworden.
Heute am 7.10.2016 war nun der Tag der Enthüllung des restaurierten Oldtimers. Stolz präsentierte SSgt Smith "seinen" Saracen. Das restaurierte Fahrzeug wird nun als Torwächter am Eingang der Kaserne seinen Dienst verrichten.
"Es ist wichtig so einen Torwächter zu haben!" sagte uns Major A'Lee vom 1 Armoured Medical Regiment. Mit den Torwächtern indentifizieren sich die Soldaten des Regiments. Und so war es SSgt Smith auch wichtig, ein aussergewöhnliches Fahrzeug hierfür zu restaurieren. Das Fahrzeug hat einige Jahre währrend des Kalten Krieges hier in Deutschland seinen Dienst versehen. U.a. war es bei den in Münster stationierten Scots Guards im Einsatz. 80BA47 ist die Originale Registration Number des Fahrzeugs. Vielleicht findet ja der eine oder andere noch ein Foto in seinem Archiv. Das Regiment würde sich bestimmt darüber freuen! Herzlichen Dank an das British Press Office Bielefeld für die Einladung!
+++
In the 60s of the last century the British forces were trying to develop a full-terrain wheeled vehicle! The idea to construct such a vehicle is as old as the idea of ​​building a tank. The result of the studies and tests was the FV600 series of the ALVIS company, which also belonged to the FV603 "SARACEN". Several variants were made available to the British Army. Including an Ambulance Version. SSgt Smith from 1 Armored Medical Regiment, stationed in the Dempsey Barracks / Paderborn, took over the task of restoring such a vehicle. He has thus finished with his comrades within a very short time.
Today on 7.10.2016 was now the day of the unveiling of the restored oldtimer. SSgt Smith proudly presented "his" Saracen. The restored vehicle will now serve as "Gate Guard"close to the entrance of Dempsey Barracks.
"It is important to have a Gate Guard!" said Major A'Lee from the 1 Armored Medical Regiment. The soldiers of the regiment are identified with the gate guards. And so it was important to SSgt Smith to restore an exceptional vehicle. The vehicle has been serving for several years during the Cold War in Germany. It was used by the Scots Guards stationed in Münster. 80BA47 is the original registration number of the vehicle. Perhaps one will find a photo in his archive this Saracen during an exercise. We think the regiment would certainly look forward to it! With thanks to the British Press Office Bielefeld for the invitation!
---
You might also like
---
---