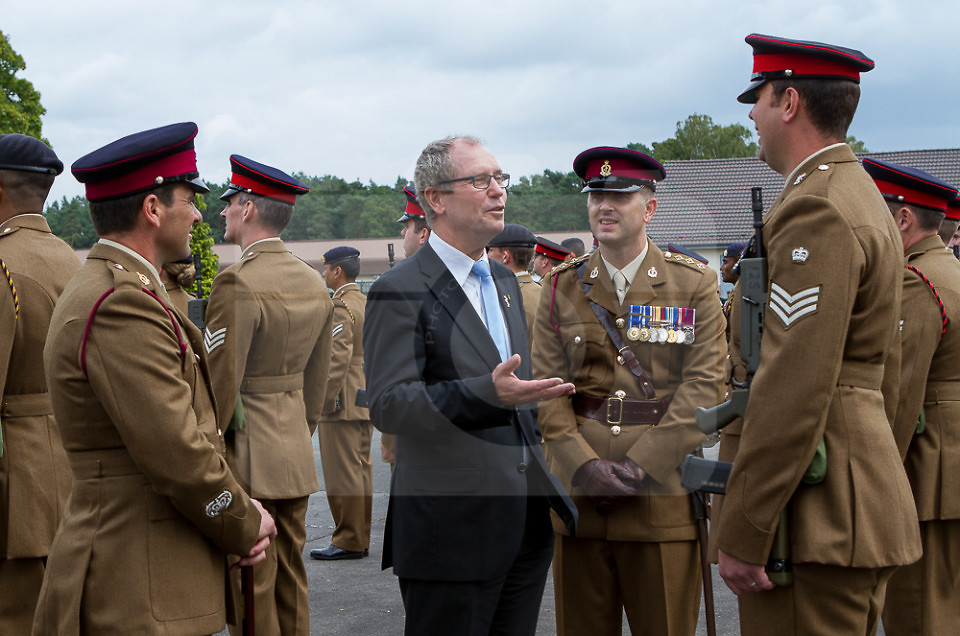 Am 19.09.2015 wurde in den Dempsey Barracks Paderborn das 1st Medical Regiment offiziell begrüßt! Dazu marschierte das Regiment in Formation auf den Exerzierplatz der Kaserne! Die Parade wurde abgenommen durch den amtierenden Bürgermeister der Stadt Paderborn, Herrn Michael Dreier, dem amtierenden Landrat Herrn Manfred Müller, Colonel Anthony Finn L/RAMC und natürlich dem kommandierenden Offizier des Regiments Lt.Col. Michael Conolly! Musikalisch begleite wurde die Parade durch die Band of The Brigade of Gurkhas!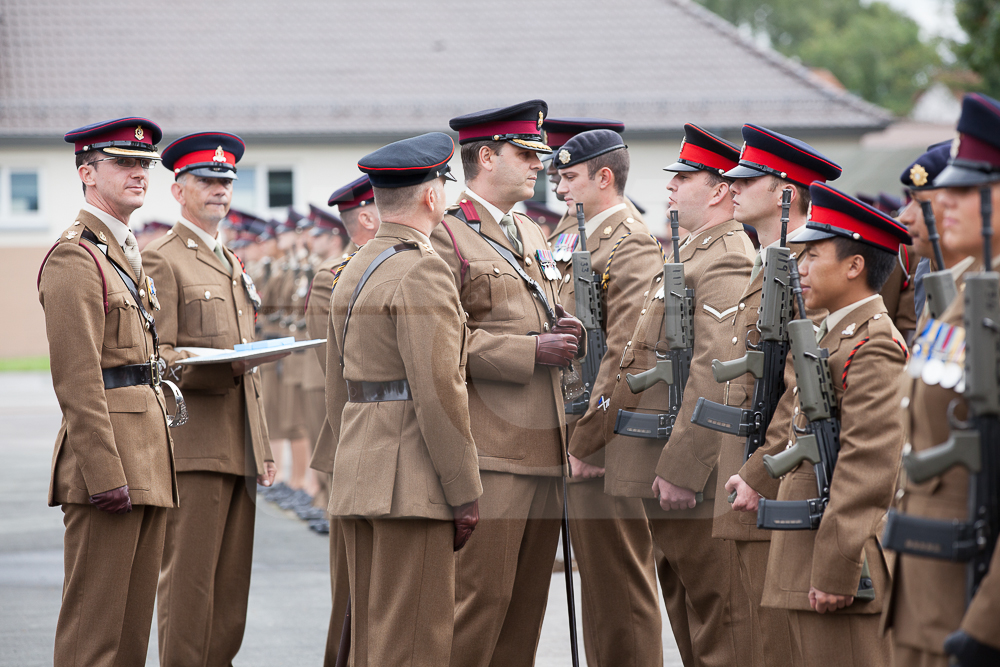 Während der Inspection wurden einige Soldaten der Einheit mit Medaillen für Ihre Einsätze in Sierra Leone! Die Soldaten waren von Dezember 2014 bis März 2015 in Sierra Leone im Einsatz, um dort ein Zentrum für Ebola Patienten zu errichten. Wieder ein Beispiel dafür das die Britische Armee nicht nur für den Krieg da ist, sondern auch humanitäre Einsätze rund um den Erdball erfolgreich erledigt!  
Das Regiment ist seit Mai 2015 im Zuge der britischen Militärreform in Paderborn stationiert und wurde von dem Bürgermeister der Stadt Paderborn, Herrn Michael Dreier und dem amtierenden Landrat Herrn Manfred Müller herzlich in dieser Region begrüßt!
Im Anschluß an die Parade wurde eindrucksvoll gezeigt, was die Sanitäter im Einsatz bewältigen müssen! Vorgestellt wurden dabei zwei Feldambulanzen und die medizinische Behandlung im Einsatz! Eine Kampfszenerie wurde simuliert und dabei wurde ein Soldat schwer verletzt, der dann durch die Sanitäter des Regiments aus der Schusslinie geholt und in das Feldlazarett gebracht wurde !
Wie wir es von den britischen Streitkräften gewohnt sind, folgte anschließend die Einladung zum Familientag! Natürlich wurde hierbei ganz besonders auf das Wohl der Kinder geachtet! Spiele waren organisiert, Hüpfburgen und weitere Aktivitäten! Für das leibliche Wohl sorgten die Köche des Regiments mit lecker gegrilltem Fleisch für Hamburger zum selber bauen!
Eine willkommene Zwischeneinlage bot dann "The Band of The Brigade of Gurkhas". Zwei Tänzer zeigten den traditionellen "Kukritanz" und wurden mit Applaus belohnt!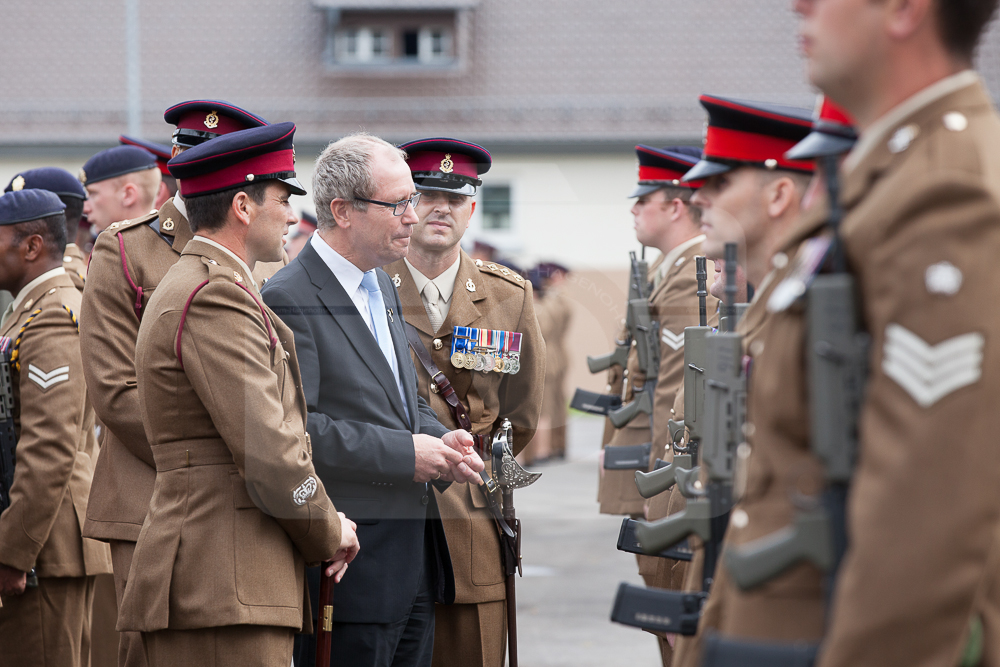 On 19/09/2015 the 1st Medical Regiment was officially welcomed in Dempsey Barracks Paderborn! For this purpose, the regiment marched in formation on the parade ground of the barracks! The parade was taken by the acting mayor of the city of Paderborn, Mr Michael Dreier, the acting District Administrator Mr Manfred Müller, Colonel Anthony Finn L / RAMC and of course the commanding officer of the regiment Lt.Col. Michael Conolly! Musically accompanied was the parade through the Band of the Brigade of Gurkhas!
During the inspection, some soldiers of the unit got their medals for their missions in Sierra Leone! The soldiers had to build from December 2014 to March 2015 in Sierra Leone a medical center for Ebola patients. Another example of successfully humanitarian missions around the globe!
The regiment stationed in the wake of the British military reform in Paderborn since May 2015 and was warmly welcomed by the mayor of the city of Paderborn, Mr Michael Dreier and reigning District Mr. Manfred Müller!
After the speeches, the soldiers of the regiment impressively demonstrated their work in the field! Presented were two field ambulances and medical treatment in use! A fight scene was simulated, while a soldier was seriously injured, which was then taken by the medics of the regimen out of the line of fire and taken to the field hospital!
After the demonstration the family  day starts with many activities for the children. The chefs of the Regiment did their best for the physical wellness of all guests and members of the regiment with delicious grilled meat like hamburger to build yourself!
A welcome interlining offered then "The Band of the Brigade of Gurkhas". Two dancers demonstrated the traditional "Kukridance" and were rewarded with applause!
####
See the full gallery of more than 250 images here:
19.09.2015 1st Armoured Medical Regiment
---
You might also like
---
---