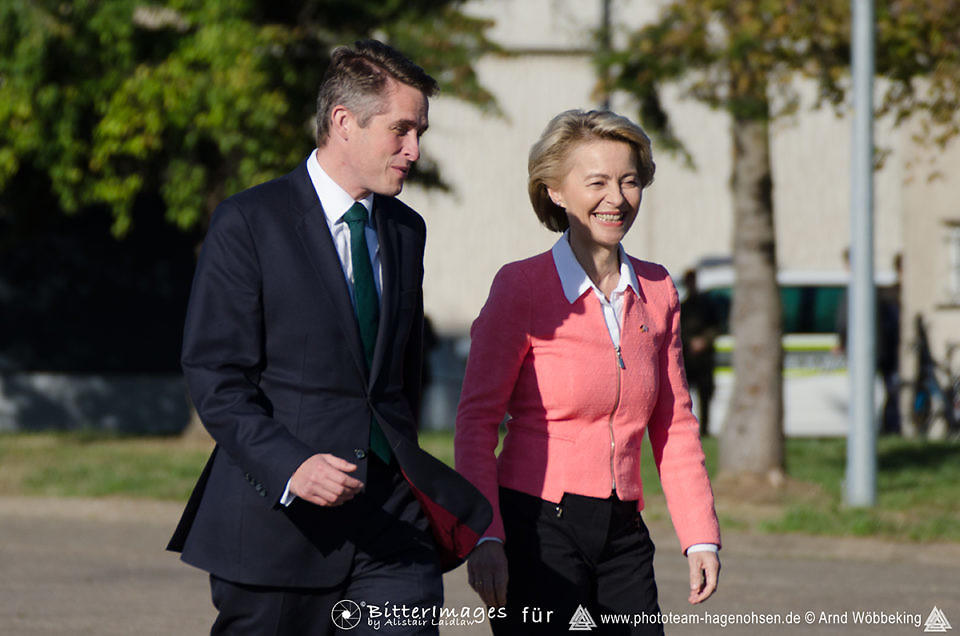 Bundesverteidigungsministerin Ursula von der Leyen hat am Freitag den 5.10.2018 mit Ihrem britischen Amtskollegen Gavin Williamson den Bundeswehrstandort Minden besucht.
Wie bekannt sind in Minden ja nicht nur deutsche Pioniere des Panzerpionierbattalions 130 stationiert sondern auch der 23 und 412 Amphibious Engineer Troop des 75 Engineer Regiments aus England! Beide Troops sind überbleibsel des 28 Engineer Regiments welches 2014 in Hameln aufgelöst wurde.
Hauptgrund des Besuches der beiden Politiker war die internationale Zusammenarbeit der deutschen und britischen Einheiten in Minden. Zur Freude des Kommandeurs Oberstleutnant Helge Lammerschmidt, investiert Ursula von der Leyen in den Ausbau des Standortes 18 Millionen Euro.
Mit großem Interesse ließen sich von der Leyen und Williamson von Ihren Soldaten die Funktionsweise der M3 Schnellschwimmbrücken demonstrieren und ließen es sich auch nicht nehmen, beim anschließenden Gang über die Brücke, mit einzelnen Soldaten ein Wort zu wechseln. Auch ein gemeinsames Selfie war für beide drin, als sie zusammen auf einer einzelnen M3 die Weser befuhren.
Auch eine Fahrt mit dem britischen CSB (Combat Support Boat) stand auf dem Programm. Beide Politiker trugen sich zudem in das Gästebuch des 23 Amphibious Engineer Troop ein, worauf die Jungs mächtig stolz sind! Anschließend ging es für von der Leyen und Williamson weiter per Hubschrauber nach Augustdorf um dort das "Joint Vision Statement" zu unterzeichnen. Das Statement ist eine bilaterale Erklärung zur engen Zusammenarbeit in der Sicherheits- und Verteidigungspolitik.werden soll.
Dieser Artikel entstand in Zusammenarbeit mit meinem Freund und Kollegen Alistair Laidlaw (Bitterimages)
+++
Federal Defense Minister Ursula von der Leyen visited the Bundeswehr Camp in Minden with her British counterpart Gavin Williamson on Friday, 5th October 2018.
As is well-known, not only the German pioneers of Panzerpionierbattalion 130 are stationed in Minden, but also the 23 and 412 Amphibious Engineer Troops of the 75 Engineer Regiment from England! Both troops are remnants of 28 Engineer Regiment which was dissolved in 2014 in Hameln.
The main reason for the visit of the two politicians was the international cooperation of the German and British units in Minden.
To the delight of the Commanding Officer, Oberstleutnant Helge Lammerschmidt, Ursula von der Leyen is investing 18 Million Euros in the expansion of the camp.
With great interest, Leyen and Williamson viewed how the soldiers worked with their equipment and did not miss the opportunity to exchange a few words with individual soldiers as they crossed the bridge. Also, a common selfie was there for both of them while they drove together on a single M3 the Weser.
A ride with the British CSB (Combat Support Boat) was also on the program.
Both politicians signed the guestbook of the UK Amphibious Capability, which the boys are very proud of! Then von der Leyen and Williamson flew by helicopter to Augustdorf to sign the "Joint Vision Statement". The statement is intended to be a bilateral declaration of close cooperation in security and defense policy.
This article was written in collaboration with my friend and colleague Alistair Laidlaw (BitterImages)
+++
---
You might also like
---
---