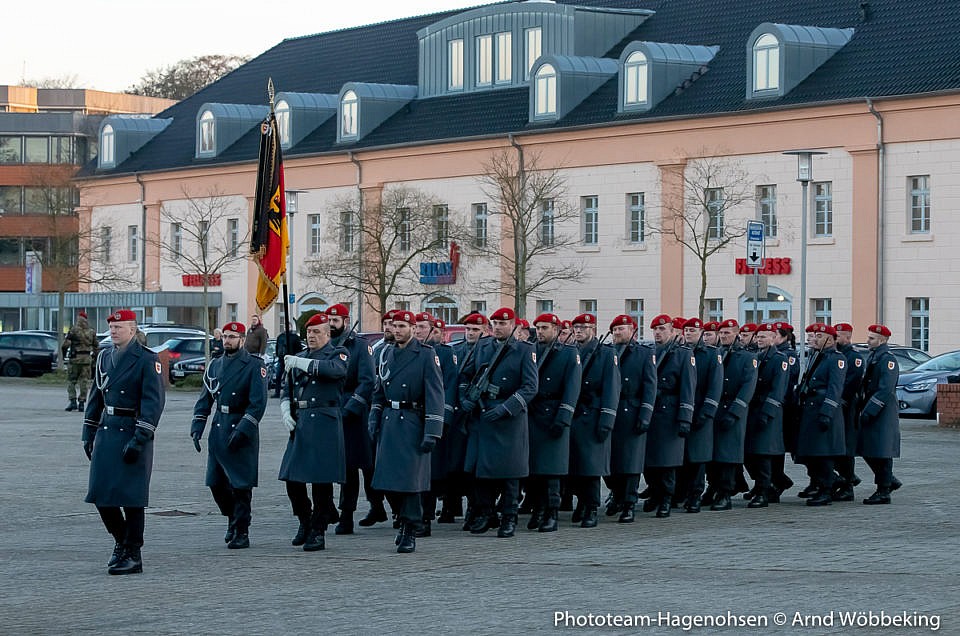 Dieses Jubiläum feierte die Bundeswehr am Sonntag den 03.02.2019 auf dem Simeonsplatz zu Minden mit einer Paradeaufstellung. 
Fackelträger betraten als erstes den Platz und die einzelnen Kompanien des Panzerpionierbattalion 130 folgten sogleich darauf. Ebenso erwies der 23 & 412 Troop Royal Engineers der britischen Armee den Mindener Pionieren die Ehre indem sie mit aufmarschierten!  Natürlich durfte das Bürgerbattalion nicht fehlen, welches ein wichtiges Bindeelement zwischen der Truppe und den Mindener Einwohnern ist. Den musikalischen Part übernahm das Heeresmusikkorps Kassel, welches zusammen mit einer Ehrenformation die Truppenfahne hineinbrachte. 
Oberstleutnant Helge Lammerschmidt und Bürgermeister Michael Jäcke schritten anschließend die Front ab, bevor sie beide ein paar Worte an die angetretenen Soldaten und die zahlreichen zivilen Besucher richteten. Mir als "Hamelner" fiel besonders auf, das beide, der Bataillonskommandeur und der Bürgermeister sehr viel Wert auf das gegenseitig unterstützen und die gegenseitige Akzeptanz legen! Ja, nicht nur Akzeptanz, sondern viel mehr gegenseitiger Respekt und Anerkennung! Tradition und Stolz, Wörter die in Minden noch wirklich großgeschrieben werden! Abschluss des Apells bildete der Ausmarsch der Ehrenformation mit Truppenfahne! 
Anschließend ging es dann noch für geladene Gäste in den Ständersaal des Preußen Museums wo ein kleiner Imbiss und Getränke gereicht wurden! Verschiedene Ehrengäste kamen hier noch einmal zu Wort und gratulierten dem Battalion und der Stadt zu Ihrem Jubiläum.
Herzlichen Dank an das Panzerpionierbattalionund an Major Burdich für die hervorragende Pressearbeit!
+++
The German Army celebrated this anniversary on Sunday the 03.02.2019 on the Simeonsplatz to Minden with a showpiece.
Torchbearers entered the square first, and the individual companies of Panzerpionierbattalion 130 immediately followed suit. Likewise, the 23 & 412 Troop Royal Engineers of the British Army paid tribute to the Minden pioneers by marching in! Of course, the Bürgerbattalion was not missing, which is an important binding element between the troops and the inhabitants of Minden. The musical part took over the army Heeresmusikkorps Kassel, which brought together with an honorary formation the troop flag.
Lieutenant Colonel Helge Lammerschmidt and Town Mayor Michael Jäcke then walked down the front, before they both addressed a few words to the soldiers and numerous civilian visitors. Me as "Hamelner" was particularly noticeable that both, the battalion commander and the mayor very much value each other and mutual acceptance! Yes, not just acceptance, but much more mutual respect and recognition! Tradition and pride, words that are still very important in Minden! Completion of the Apell formed the departure of the honor formation with troop flag!
Then we went for invited guests in the "Ständersaal" of the Prussian Museum where a small snack and drinks were served! Various guests of honor spoke again and congratulated the Battalion and the city on their anniversary.
Many thanks to the Panzerpionierbattalion and to Major Burdich for the excellent press work!
+++
---
You might also like
---
---